The variety show on May 9th was another wonderful music-filled evening at the Chthonic Theater. The theme, water, really seemed to resonate with the performers and many of them performed songs inspired by the subject.
Act 1: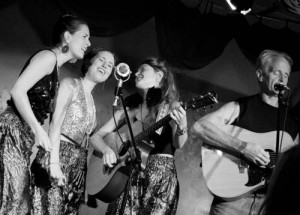 Ramsey Tietjen:
Ramsey (aka Pa) performed a couple of heart-filled original tunes, on one of which his daughters (us T Sisters) sang backup. Pa is a variety show regular and you can catch him at one of the next shows (tba). Check out his musings and recordings HERE
Yonat Mayer: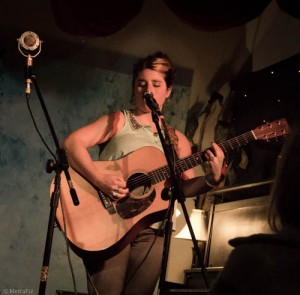 Yonat's music is deeply personal and filled with soul and blues. Her singing seems to channel contemporary r&b greats but her subjects have an esoteric and heart opening vibe about them. Yonat performed solo and showed impressive guitar skills as well. Check out more of Yonat's music HERE
Laurie Lewis + Tom Rozum: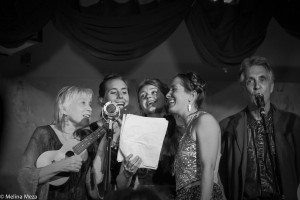 Laurie and Tom are pillars in the Bay Area Bluegrass community and have been wonderful mentors to us T Sisters in our musical journey. Laurie's is an incredible songwriter who is always stretching the limits of folk and bluegrass. It is always and honor to sing with Laurie and Tom and this show we sang three tunes with them, the Al Jardin tune "California Saga", Bob Nolan's "Cool Clear Water" and Laurie's tune "Here Comes the Rain". Check out Laurie's music HERE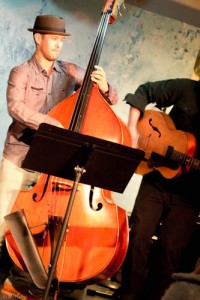 Adam Lowdermilk Trio: 
Adam (upright bass) along with Andy Allen-Fahlander (guitar) and Noah Friedman (violin) performed a couple of intricate jazz numbers, one original and one standard. Adam makes the upright bass, often relegated to a supporting instrument, a focal point of the music. The effect is a heavily rooted and deeply groovy sound. Adam also lives and teaches at the Chthonic Theater. Check out his music and find out about music lessons with Adam HERE
We are your hostesses! We are accompanied by our glorious band, Steve Height (bass) and Andy Allen-Fahlander (mandolin/guitar).  As we always say, we are so honored to have such incredible performers on our stage. Thank you for coming to the variety show and supporting your local music community. Please keep up with the artists whose music/performance had an impact on you. Buy their music! Attend their shows! Attend our shows! Don't let the bay area become a google wasteland! and last but not least…conserve water 🙂 more about us HERE
Act 2:
Heather Normandale: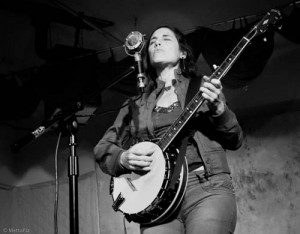 Heather has a close musical connection with the theme of water. She has recently released an album dedicated to water called Trembling Water. She writes, "Symbolically, water holds the creative visions of our dreams and ignites conductivity for change." Heather's music, performed with soul and grace, seems to connect the natural world and the internal world. The rhythmic and rolling sound of her banjo playing is the perfect accompaniment to her groovy brand of folk. More about Heather HERE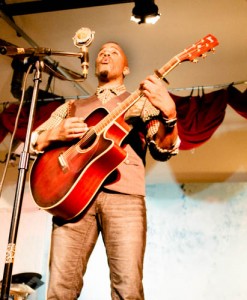 Austin Willacy:
Austin's experience as a performer and musician was immediately apparent with his charming introduction and his seemingly effortless skill as a singer and guitar player. His style blends pop, rock and folk music and his subjects are both edgy and comic. Austin, in addition to his prolific solo career, is one of the founding members of the House Jacks, a longstanding and nationally acclaimed a capella rock group. More about Austin HERE
Denali Gillespie + Will Fraker: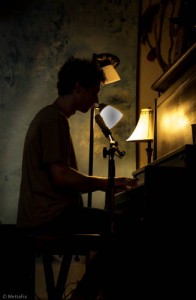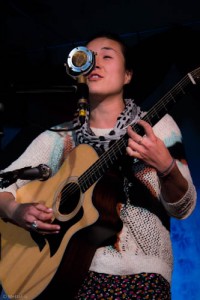 Denali and Will endeared themselves to the crowd off-the-bat with their sweet acoustic version of the 90's TLC classic, "Waterfalls". They took us back even further with their rendition of Sam Cook's "A Change is Gonna Come". Both sang with soul and sincerity that made the audience fall in love.
American Nomad (Hassan El-Tayyab):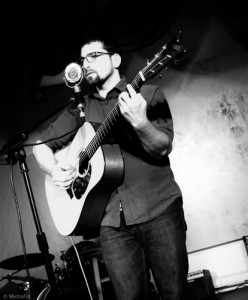 Hassan, a longtime musical comrade and collaborator, tried out a couple of new tunes on the audience and with great success. Hassan has an honest approach to the Americana style and casual performance style that is very engaging easy to listen to. He is publishing a book about his journey across the country and his overcoming writers block at Burning Man called, Composing Temple Sunrise.  Find out more about Hassan, listen to his music and see where he's playing next HERE
Ed Masuga: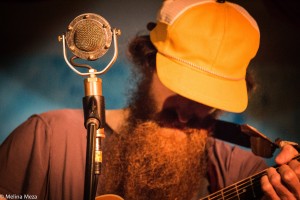 This was Ed's first time performing at the variety show. In fact, Erika had just met him the previous day at Subway guitars in Berkeley. Ed has a unique and intricate fingerpicking guitar style and his voice is crooning yet rootsy with an impressive dynamic range. Check out more of his music HERE and his awesome music video tribute to Angel Island HERE
Thanks to our amazing emcee: Johnny Meshugenah
and our volunteers: Lia Gaertner, Kristine Cristobal, Ernie Williams, Pete Corkey
photos 3 & 11 by Melina Meza, all other photos MettaFizz